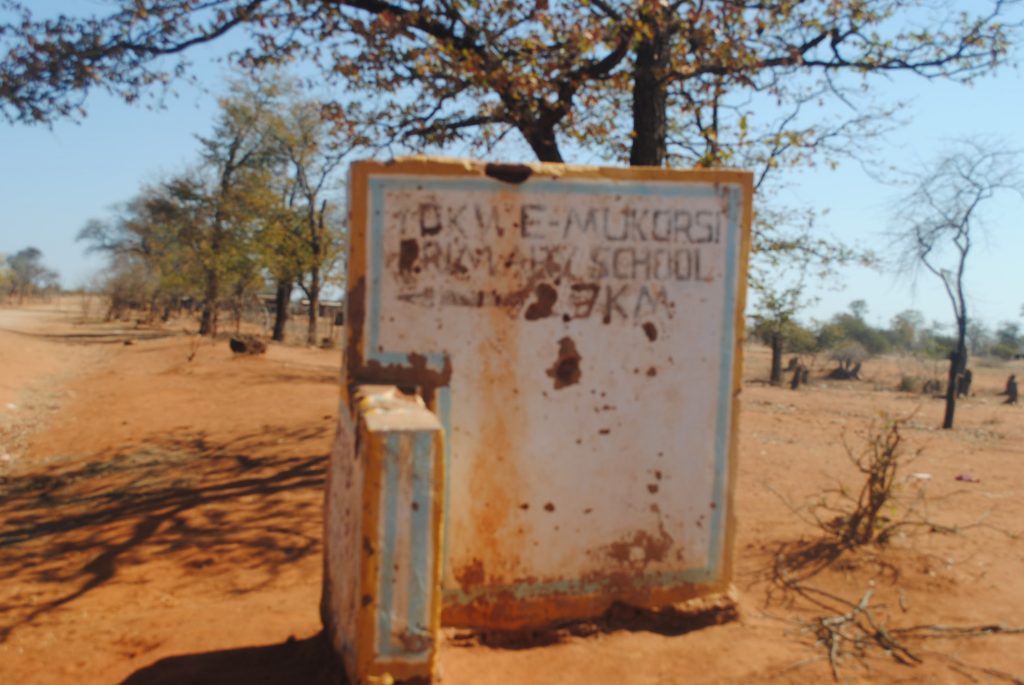 By Tatenda Chitagu
The old tent that provides cover at a makeshift blair toilet for Martha Moyo in Nuanetsi Ranch is tattered and it is matter of time before it gives in to the vagaries of the weather.
But Moyo, one of the 17 000 flood survivors from the basin of Zimbabwe's biggest inland dam, Tugwi Mukosi, is not moved by the poor state of her 'toilet' as there is more than meets the eye that is nagging her.
Nuanetsi Ranch, located in South-east of Masvingo City in the hot and arid Mwenezi district used to be a cattle ranching and wildlife sanctuary before the flood survivors were resettled there in February 2014.
When its time for her period, Moyo, a 29 year-old mother of two from Tsikisai village faces tough choices: either to use old rags or newspapers.
"We are too impoverished to afford sanitary pads….they are a luxury here. We use either newspapers or old rags. We end up having our privates bruised," she said, unfazed that she is talking about a subject often considered taboo to discuss with a male stranger.
The smallest 50 gram packet of cotton wool in their area costs US$2. On average, a woman or girl needs two to three packets of 10 pads-which costs around US$1,50 each-for a menstrual cycle.
"We rely on doing menial jobs in the nearby sugarcane plantation to get money and the little that we get is for food. For weeding a line of cane plants, you get a dollar. Every year we face food shortages because this area is not suitable for crop production," added Moyo.
Last month, government, through the Ministry of Social Welfare, started to give the villagers food aid.
Another flood survivor, Gogo Tichagwa from Marebe village, who is the guardian of a form three pupil at Nyuni Secondary school, said her granddaughter had missed school because she is having her periods.
"My granddaughter refuses to go to school every time she is having her periods. This is because I cannot afford to buy pads so she sometimes uses old rags. Her parents died long back and I am taking care of her and as you can see I am old and unemployed. My other daughter is taking care of me but she also has her family to take care of," she says.
Her 16 year-old granddaughter, who we will call Grace to avoid stigmatisation, says she dreads menstruation, a natural biological process.
"I do not remember when I last used a pad. I cant walk around seven kilometers to school with rags in my underwear. Its very uncomfortable, so I decide to abscond school. Even if you make it to school, the rags may fall down and I spoil myself. Other pupils laugh at me and boys would follow me all the way home from school taunting at me.
"When I am having my periods, its a period of shame. I cannot participate in sporting activities. There are no menstrual hygiene toilets at school with water or soap to clean myself. I also suffer from dysmenorrhea (period pain)," she said.
Grace and Moyo are not the only rural girls and women in the country who have resorted to desperate methods to manage their periods.
According to UNICEF, millions of Zimbabwean girls endure "period poverty", making the provision of appropriate sanitary materials and hygiene education critical.
"In Zimbabwe, period poverty or the struggle many women and girls face in affording sanitary materials and information, as well as the associated cultural stigma and shame is unfortunately a common problem," said UNICEF Representative in Zimbabwe, Dr. Tajudeen Oyewale and Catherine Makoni, the UNICEF Gender Specialist in an article marking World Menstrual Hygiene Management Day in May 2022.
"Perhaps the most critical of the challenges that women and girls continue to face is the shortage of resources to manage menstruation and menstrual pain with dignity. It was found that while critical, these needs go beyond distribution of sanitary pads and other materials to include access to toilets, hand washing facilities and safe disposal of sanitary waste.
"For girls with disabilities, menstruation can be an even more difficult experience. For some girls, there is no privacy as they need assistance in managing basic hygiene processes," adds Dr Oyewale and Makoni in their article.
According to a 2015 study by SNV Netherlands Zimbabwe, 72 percent of girls in Zimbabwe have never used a commercial or disposable pad.
A June 2022 report by the Zimbabwe Coalition on Debt and Development (ZIMCODD) noted that most rural girls were now improvising because the cost of sanitary wear has skyrocketed beyond their reach-some getting so desperate that they use cow dung.
"Women and girls face numerous challenges in managing their menstrual cycle as pads and other supplies may be unavailable or unaffordable. Many women without access to menstrual products improvise with old blankets, toilet paper, rags, newspapers, mud and even cow dung.
"At a recent assessment visit in Zaka district by the Portfolio Committee on Primary and Secondary Education, it was noted that most young girls did not have access to sanitary wear and this resulted in absenteeism from school for a few days every month," reads the ZIMCODD report.
ZIMCODD said this infringes on women's rights to reproductive health, water and sanitation.
"Poverty and humanitarian crises can limit women's and girls' access to culturally appropriate, high quality menstrual supplies and safe, private washing facilities," the report says.
UNICEF's 2019 Formative Research on Menstrual Hygiene Management noted that approximately 13.2% and 27.9% of girls in urban and rural areas miss three or more days of school. Severe pain, lack of sanitary ware, discomfort, and tiredness were the main reasons for missing school.
Health experts say the desperate and unhygienic methods adopted by girls and women during the natural monthly cycle lead to bacterial infections like salmonella, among other reproductive health infections.
Legislator for Mwenezi East constituency where the survivors are domiciled, Master Makope, said he was unaware of the crisis, but promised to mobilise free sanitary pads for females in his constituency.
"I was not aware of such a problem. But I will look into that and seek support of other partners. Our partners were helping other schools with free sanitary pads so maybe they forgot satellite schools in my constituency," Makope said in a telephone interview.
Deputy Minister of Health, Dr John Mangwiro said he could not comment on the issue of sexual and reproductive health and rights for the Tugwi Mukosi flood survivors, referring this reporter to Local Government Minister, July Moyo.
"This issue falls under emergency supply, it is not in my purview, call Local government Minister July Moyo," said Dr Mangwiro.
Moyo was not picking his calls when contacted for a comment.
Government in 2020, amended the Education Act to legislate the provision of free sanitary materials in schools. Finance Minister Mthulie Ncube also made a budgetary allocation of 500 million Zimbabwean dollars (about US$1,3 million then) for the procurement of sanitary materials for girls at schools. But the program is facing funding issues.
The government also scrapped duty and Value Added Tax for sanitary wear, but the price of pads remain beyond the reach of many due to inflation that has ravaged the country.
Each year, the world commemorates World Menstrual Hygiene Management Day (MHM) on May 28. This year's theme is; "Step Up Action and Investment in Menstrual Hygiene Now"