Hazvinei Mwanaka
MASVINGO – It's often said that it takes a village to raise a child.
But for Martha Moyo 17* (not real name), from Gutu, her village turned its back on her.
After being impregnated at a tender age, Moyo is one of the many children in the country who endured the burden of taking care of her minor sibling and son.
"It was just me, my 14 year-old brother and my son. We found it hard to survive and still do. At times we go the whole day on one meal," she said.
"When my father died in 2006 we remained with my mother but she later on remarried and we went to stay with my grandmother. However granny later passed on and we were left without any choice but to go and live with my mother and stepfather.
"I made a decision to leave my mother with her new family and came back to our village with my brother to stay at our grandmother's homestead. It was difficult separating ourselves from our mother, but I did not have any option," she said.
After working for a few months in a local shop, before moving to their grandmother's place, she managed to buy some food items which however did not last long and they had to start looking for alternatives.
According to her the other reason why she left her mother was because she now had a child to take care of and her minor brother who were now looking up to her.
"I realized that we cannot spent the rest of our lives staying at other people's places, most misunderstandings occur and I wanted to avoid that. This is when we decided to move and face our lives head on," she added.
"We are surviving on menial jobs," she said, tears streaming down her cheeks.
"Usually when we work I prefer to be given food or basic commodities as compared to money. Others take advantage of us and give us hard work for example weeding their fields after which they give us very small amounts of money. So there are places that I go to do the work and others I will not since they are exploitative," she added.
She cannot raise school fees for her brother who has since dropped out.
"We make sure 2 litres cooking oil lasts a month and a bucket of maize meal lasts for about 3 weeks. Having three meals to us is a luxury as we mainly have one or two meals so that we save what we have," she added.
A visit to their homestead revealed that they only have two huts one serving as a kitchen and the other one a bedroom which she shares with her young brother. However, the bedroom leaks and to her that is their only option, they have to endure anything that comes their way.
"My greatest fear are the rains, we had some heavy rains last year which left our roof destroyed. I'm afraid our houses will be swept away. Now we are using old sacks to cover the roofs. But we have no option but to live with it," she said.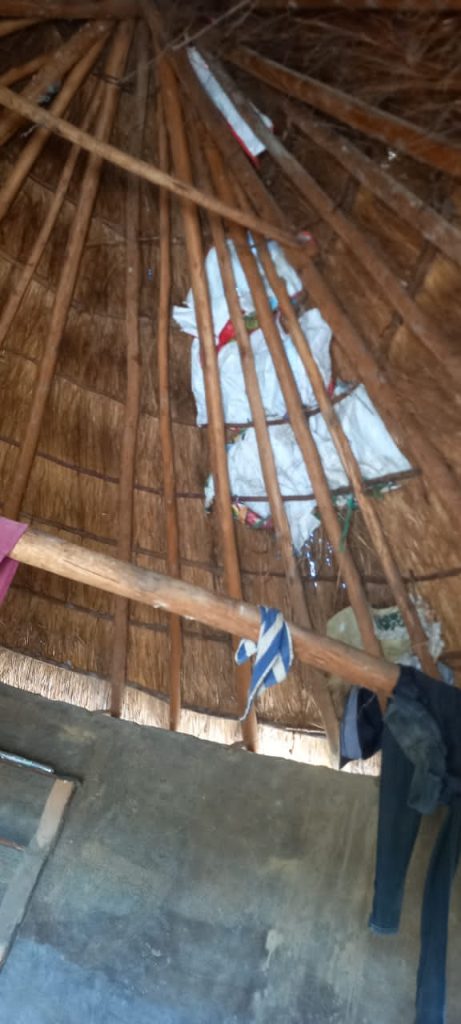 She said thieves in the area take advantage of them staying alone.
She complained that she is left out of government food aid schemes.
"My wish is to build a house at my father's stand. I need a better life for my brother and son. I wish my brother could go back to school. Though my mother is married she is also finding it difficult to take care of us," she added.
She has always wanted to serve in the military.
"My prayer always is that God changes my life for the better. Imagine the stress that you get when you realise that you only have food to last for a day?" she said.
One villager said responsible authorities should make sure that she also gets food aid.
"Child headed families need everyone to help them. They should be taken care of. My wish is for her brother to go back to school. We have community gardens that has been given to us, we appeal that they are given a portion to grow their own vegetables for consumption and for selling," she said
Another villager, Miriam Magoga who stays in the same village said she is really pushed by their plight.
"I really need to support them, if I get something I do not mind to share with them. Usually they come to me for emotional support and I help with whatever way I can. My wish is for everyone to extent a helping hand to them," she said.
Pastor Ivy Gavhumende director of Building Bridges in Zimbabwe, an organization that works with orphans and vulnerable children in Masvingo said child headed families face a lot of challenges.
"Most of the time they do not have enough resources, money to go to school, and are left behind at certain programmes that benefit communities. Some communities knowing the challenges that they have, take advantage of them to the extent that some are sexually abused to get something in return. Some grow up without self-confidence because they are not well parented.
'Most of them grew up without proper guidance, even the reproductive and sexual health rights some of them they do not know that's why some end up being for example pregnant because they are not aware," she said.
She added that the other things she sees lacking are who counsels who and who knows who and where, "the community may know them and they are used to them they think all is well and yet they will be suffering in silence only to realise that they are in pain after something bad happens," she added.
"I understand that government has done quite a lot, but the programmes once they are started in the communities they do not last," she said.
She however urged the communities to stand up for these children.
"All of us has to be alert, to stand up for the orphans and vulnerable children. Children whose parents are available are succumbing to drugs, what more orphans. We need to be like their parents to help them and to safeguard them," added Gavhumende.
Taylor Nyanhete the National director for the Zimbabwe National Council for the Welfare of Children said policies have been put in place to help disadvantaged children.
"Government developed the Zimbabwe Orphan Care Policy in 2009 which has now been replaced with Zimbabwe National Alternative Care Policy of 2022. In this policy kinship care is now recognized where relatives appoint a guardian for the children whose parents are deceased.
"Related to that government continues to promote foster care where you and I can approach government and indicate that we want to take care of children who are not biological. We are then screened for criminal records involving children, once cleared we are then eligible to foster children with support from government as well as supervision. It is in this provision where child headed children can find parental care and support until majority age or when they are independent to move on with their lives," he said.
The minister of Public Service, Labor and Social Welfare, Paul Mavhima said every house that is food insecure is being assisted.
"Child headed families are on our goals we are doing everything we can to assist them. Those that are failing to get food assistance should reach out so that they get assisted," he said.
In 2013 UNICEF reported that more than 56 million children in Sub Saharan Africa under the age of 15 years had lost at least one parent to HIV/AIDS and lived without parental or extended family care or supervision.
According to a UNICEF report, "In 2022, an estimated 2.6 million people, including 1.9 million children, are projected to be in urgent need of humanitarian assistance in Zimbabwe due to multiple hazards, including residual impacts of floods, drought and food and nutrition security crisis, the COVID-19 pandemic and the economic crisis.
*The names and age of the minors have been removed to protect their identities.
The story is published with support from the Voluntary Media Council of Zimbabwe (VMCZ) and the Embassy of Canada in Zimbabwe under the Investigative Journalism Fund Program.