By Tatenda Chitagu
SHASHE, MASVINGO-Elizabeth Mpofu's homestead resembles an island in sea of poverty.
The lush green rapoko, millet, sorghum, orchard and banana plantation on the 63 year-old farmer's twelve hectare plot illuminates the neatly structured houses in the dry and arid Zvemahande resettlement area, about 20 kilometers north-east of Mashava mining town, west of Masvingo City.
The rains have had a lull of two weeks leading to a dry spell that has sent crops into moisture stress. The area is however nestled in natural region four and one would not expect to see a banana plantation.
"We do water harvesting which enables us to grow bananas and have fish ponds. Apart from that we have earth dams and do contours to trap water," she says, as she shows us a pig sty, goat and sheep pens.
Mpofu, from Gonese Village under Chief Bere, is one of the lead farmers who practise agro-ecology in the area and has become a case study to other farmers from within and beyond the country.
"We started practising agroecology not knowing it was agro-ecology. Ever since we resettled in this area in 2002, we never practised industrial agriculture. Neither did we use fertilisers or herbicides. Up to now I do not know how much a bag of seed costs. We use farmer-prepared home seeds and rely on composting, leaf litter and animal manure to feed our soils," she said.
Agroecology entails sustainable farming practices that do not harm the environment while mitigating climate change. According to the Food and Agriculture Organisation (FAO), agroecology is 'a holistic and integrated approach that seeks to optimize the interactions between plants, animals, humans and the environment while also addressing the need for socially equitable food systems within which people can exercise choice over what they eat and how and where it is produced.'
"Annually, our maize failed, and that is when we decided to shift to small grains which survive on little rainfall since the area is dry. We then formed the Association of Zimbabwe Traditional Environmental Conservationists (AZTREC) to revive traditional farming methods and conservation practices," said Mpofu.
Mpofu, who in 2016 was designated the FAO Special Ambassador for the International year of Pulses, latter co-founded the Zimbabwe Smallholder Organic Farmers Forum (ZIMSOFF), a network of around 15 000 smallholder farmers that use organic farming methods. ZIMSOFF later established the Shashe Agro-ecology Center, a training center for farmers from Zimbabwe and beyond.
Another lead farmer, Abumleck Mutsenhure (61), whose homestead looks like a botanical garden because of the many indigenous and exotic trees dotted around, does integration farming.
"When I came to this place there was only one tree. We transplanted more than 50 indigenous tree species," he says, as he takes us for a tour of his homestead.
"I do soil management, preservation and improvement through composting, cow dung, goat and chicken manure. I am strictly organic and I promote indigenous knowledge systems. I also do seed management, seed security and seed treatment specialising on small grains," said Mutsenhure.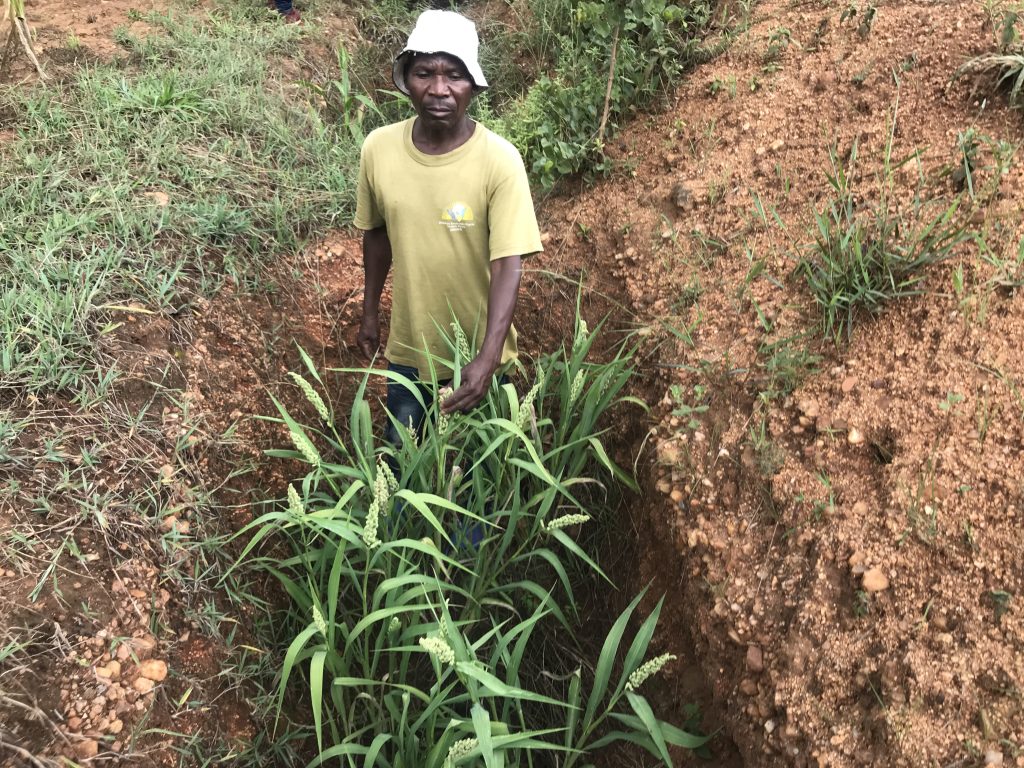 Mutsenhure in one of the infiltration pits that serves as a compost and seedbed (pic by Tatenda Chitagu/HUMFOZ)
Among the soil and water conservation techniques he uses are upland conservation (creating a short stone wall from the ground to stop soil erosion); downland conservation (the use of three meter deep and three meter wide contours and infiltration pits to trap water).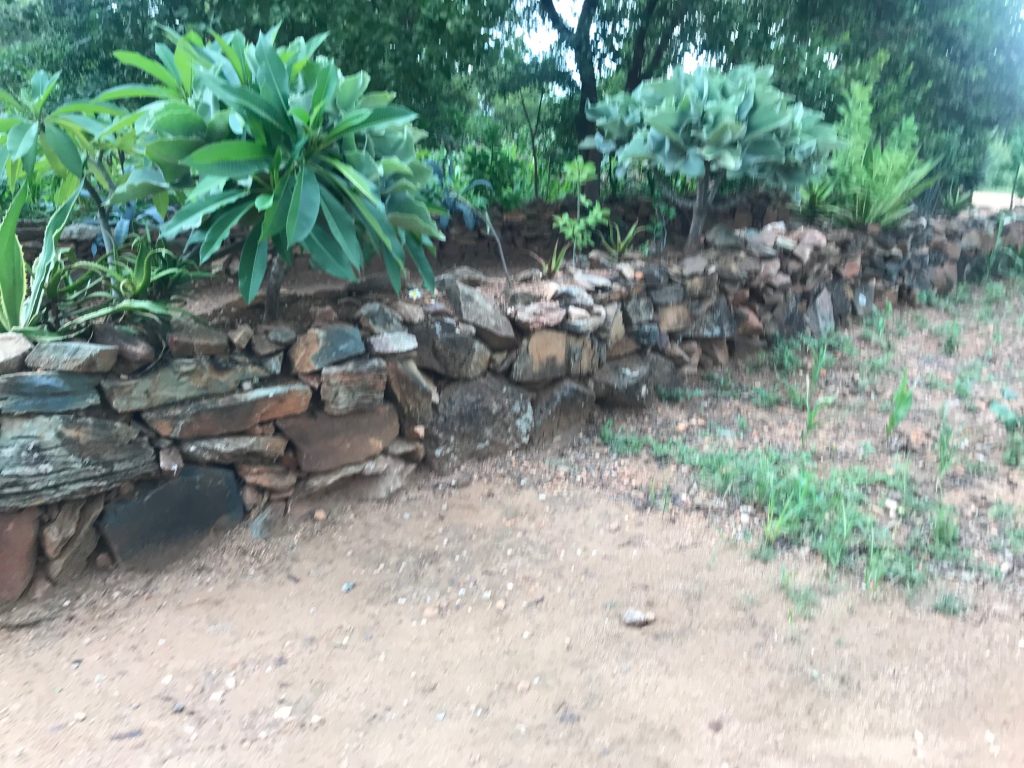 Mutsenhure only plants first generation, farmer prepared traditional seed varieties which are not available for sale in shops by seed companies.
He plants short and long season varieties and does intercropping as a decoy to stop birds from eating his produce as they target the taller variety which is a longer maturity one, which camouflages the short season variety.
His wife, Muvaki Matombo-Mutsenhure, says ever since they started growing small grains and other pulses, food shortages have been a thing of the past.
"Ever since we started planting small grains, annually we are left with excess that we sell, something which we cannot do with hybrid maize. I managed to raise school fees for my kids by brewing traditional beer for sale from the small grains produce," she said.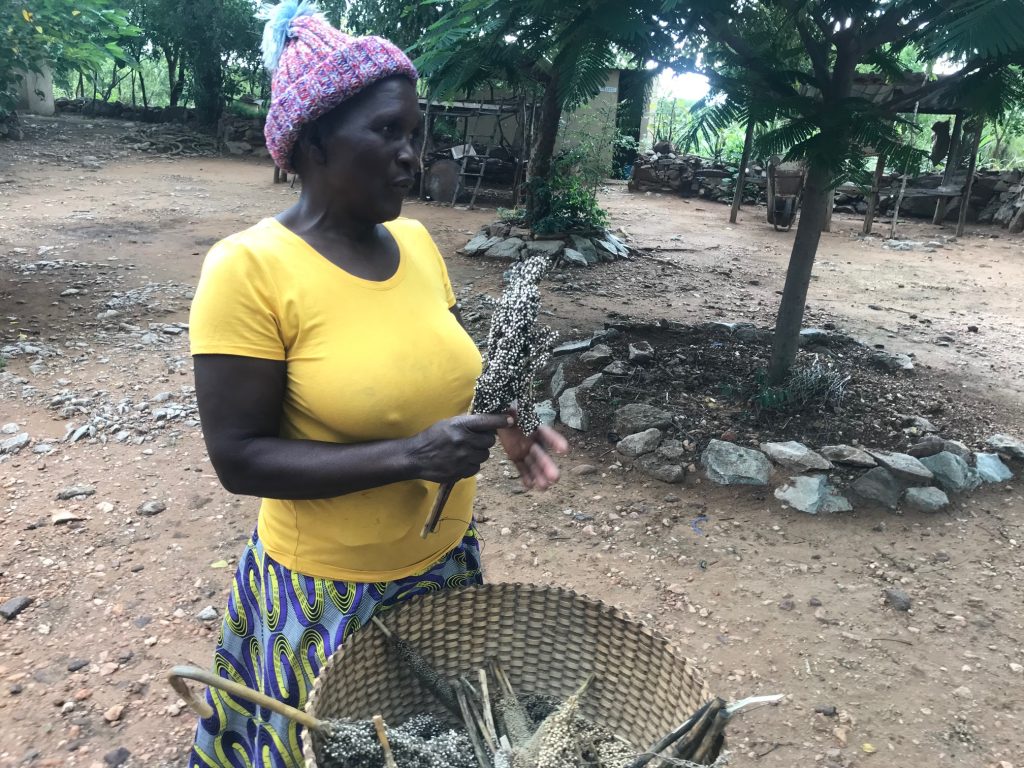 Martin Jabson, an Agricultural Technical Extension officer (AGRITEX) for the area, said they started with 12 farmers, but now over 500 are practising.
"The uptake has increased gradually after farmers realised that agro-ecology helps lessen their expenses in terms of seed and fertiliser procurement. It is also sustainable to use traditional seeds. We discourage monoculture," said Jabson, who has been working in the area for the past 18 years.
"Farmers however complain that agro-ecology is laborious-from doing pits, upland conservation using stones, as well as planting and processing of small grains and the quelea birds which eat their crops. We hope that due to mechanisation, planting, harvesting and processing of small grains will be made easier," he added.
The Voluntary Services Organisation (VSO), a Non-Governmental Organisation (NGO) which partnered with ZIMSOFF to provide agro-ecology training and to rehabilitate the Shashe Agro-ecology School, said they are training AGRITEX officers who will impart the knowledge to smallholder farmers.
"We started working with ZIMSOFF in 2021 so as to increase our reach to farmers. We managed to train 3 000 farmers in Chimanimani and Masvingo. We also trained 100 AGRITEX officers who pass on the knowledge to farmers," said VSO regional project manager, Simba Guzha.
Masvingo District Development Co-ordinator (DDC) Roy Hove said government supports agro-ecology and wants the initiative to cascade down to several smallholder farmers.
"Government has always promoted agro-ecology, indigenous seed culture and conservation agriculture. I am confident that this initiative will benefit a lot more farmers," said Hove.
Revival of lost, first generation seeds:
To prevent most of the first generation seeds into sinking into oblivion, ZIMSOFF established seed banks to enable farmers to exchange seeds at seed and food fairs, as well as set up seed study groups.
The farmers dry the seeds, select the best, and store in their granaries. They either mix the farmer-saved maize seed with other small grains seed or put ash in a clay pot and seal it to avoid weevils. These community seeds are resilient to climate change.
Call to amend the Seed Act
Smallholder farmers believe the policies, especially, the Seed Act, is skewed in favour of multinational hybrid seed companies which sell certified seeds. The act calls for registration of sellers of seed and seed testing laboratories; regulates the importation, exportation and sale of seed and calls for seed testing, certification and inspection.
According to Mpofu, current agricultural policies are not promoting and protecting agro-ecological systems.
"We believe seed choices should be in the hands of the farmer while agro-ecologically produced foodstuffs should be labeled on their packaging. As a farmer, I want my seed and food sovereignty. We are not allowed to sell our seeds like other big seed companies as they are not certified. We however happy that the government accepted the concerns we raised and promised to factor in our contributions in future policy formulation," Mpofu added.
Deputy Lands, Agriculture, Water, Climate and Rural Resettlement Minister Vangelis Haritatos could not respond to the farmers' concerns as he ignored questions send to him, which he requested in writing. Efforts to engage him latter proved futile as he rejected calls.