By Tatenda Chitagu
BIKITA, MASVINGO-A flock of clucking southern ground hornbill birds roam freely near an unmistakably pristine hill in Bikita district of Masvingo province in southern Zimbabwe.
The hill, named Chiroorwe, stands out from the rest in the mountainous area as its verdancy lies untouched. Other mountains nearby are scarred, with trees having been indiscriminately cut down or their bellies devoured by illegal mining activities.
"This is a sacred hill where no-one is allowed to climb. It is a hill where the traditional leaders do our rituals twice or thrice a year. They are the ones that can access the hill only when they are performing rituals, and they will go there after seeking spiritual guidance first," said Against Chiweshe (82), a village elder from the area, in Mamutse village under Chief Mazungunye.
"If you cut trees or go up the mystic hill, folklore has it that you disappear or, if lucky, you wander the whole day, failing to get your way back. So that is how the hill remains unspoilt," he added.
Precious site:
Stranger than fiction as the legends appear, these are stories lost to life in Bikita, which is tucked into a barren landscape east of Masvingo City, several dwalas dotting its grey earth.
And this mystery has allowed the southern ground hornbill birds to grow and multiply undisturbed in the hill, says Method Gundidza, the director of Earthlore Foundation, an agroecological non-profit fighting biodiversity loss.
"It is not by coincidence that these birds are breeding there and nowhere else in the area. They breed in the hill knowing that if they lay their eggs there they will not be taken or destroyed by humans because that is a sacred site. Humans cannot snare them there either," said Gundidza.
Southern ground hornbills (Bucorvus leadbeateri), with the size about that of a turkey, are classified by the International Union for Conservation of Nature (IUCN) as vulnerable to extinction due to persecution and habitat alteration caused by pollution, deforestation and agricultural activities.
In other hills and mountains in the area which are not considered sacred, villagers would hunt for the hornbills' eggs; forage for firewood; herd their cattle or start fires to chase the birds away, harming both the birds and their nesting habitats.
Under the country's Parks and Wildlife Act, the southern ground hornbill is considered as vulnerable.
"These birds are very important to us as they help in weather and climate forecasting. We can foretell whether we are going to have good rains or not from studying the birds' sounds and movements. If you hear the deep singing of the southern ground hornbill at dawn, then you know it is going to rain soon and you start preparing for planting. But these birds are now very rare," said Elizabeth Magijani (50), from neighbouring Pfuwirai village.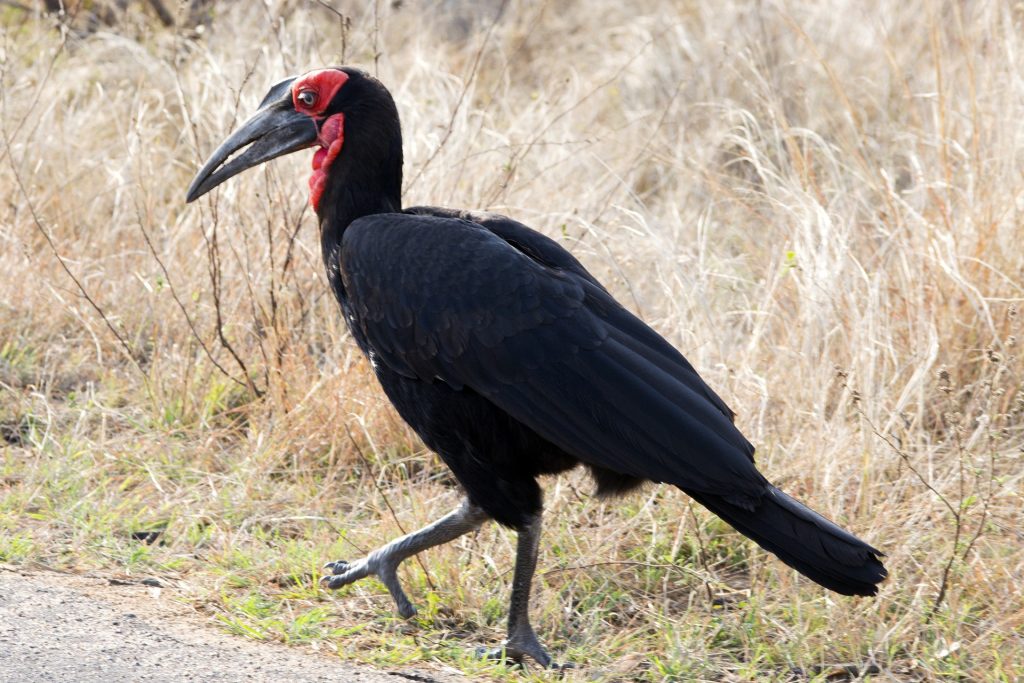 The southern ground hornbill (pic by Elsapret from Pixabay).
Togarasei Fakarayi, a programme manager at BirdLife Zimbabwe, a non-profit that conserves birds, their habitat and biodiversity, said the southern ground hornbills' population in the country is declining due to habitat loss.
"There has been some ad hoc counts of the hornbills, but no full survey has been done in Bikita. However, the southern ground hornbills' population is declining in the country and throughout Africa due to habitat loss," he said, adding: "Awareness raising on the preservation of this bird species is being done, and surveys and conservation plans have been developed in Zimbabwe. However, a lot still needs to be done to improve the protection of this threatened bird species that serves as an early warning system."
Light at the end of the tunnel:
In May 2017, the African Commission on Human and Peoples Rights (ACHPR) passed Resolution 372 that recognises sacred natural sites and territories internationally as one of the oldest forms of culture-based conservation.
The ACHPR defines sacred natural sites and territories as "areas of land or water having special spiritual significance to peoples and communities". It acknowledges the critical role sacred natural sites play in the protection of African ecosystems, and also in the realisation of African people's rights, including the right of people to economic, social and cultural development.
The resolution urges states, business and civil society groups to "recognize and respect the intrinsic value of sacred natural sites," thus 'decolonising African law and conservation practices', according to the IUCN.
Working with the communities, traditional leaders like chiefs, villages heads and government departments like the Environmental Management Agency (EMA) and the National Museums and Monuments of Zimbabwe (NMMZ), Earthlore Foundation has piloted Bikita district in an ecological mapping exercise to identify and restore desecrated sacred sites and territories in the district to avert further biodiversity loss.
"Sacred sites and our rituals keep the land and the local climate in balance. As such, we are doing community dialogues sitting with elders who tell us how the land and the area was structured long back then and how it was governed. In the process of remembering, we get that image of how it used to be in relation to how it is now. In African cosmology, conservation starts with communities," Gundidza said.
"The local people know and they will tell us and map where there was a sacred hill, sacred forest, wetland, or a spring. We are trying to get an ancestral map of the original order of the land. We get the distortion and say now what do we do? When we do that we go back to traditional governance systems where every member of the community was responsible. We will ask who was responsible for doing what, how, why and where, to protect these sites," he added.
Dr Fassil Gebeyehu, the general coordinator of the African Biodiversity Network (ABN), a regional network of organisations seeking African solutions to the ecological and socio-economic challenges that face the continent, said indigenous knowledge systems should not be sidelined in curbing biodiversity loss.
"Practices and indigenous knowledge concerned with restoration and preservation of nature are very important. There is need for African governments to revive and rejuvenate natural sacred sites and territories for a healthy ecosystem. We need to stop the ecological genocide taking place under our watch by embracing diverse ways and methods of conservation. Community cohesion is very important in conservation," he said.
Lovemore Mandima, the regional director for the NMMZ-a government body which is tasked with preserving ancient, historical and natural monuments, relics and other objects of historical or scientific value or interest, said natural sacred sites sustain the Intangible Cultural Heritage (ICH) while also helping conservation efforts for the wellbeing of communities and the nation at large.
"These sites are very useful in conservation efforts. Local communities, elders and traditional leaders should be actively involved in the safeguarding of these places. There is need for the NMMZ to conscientise policy makers, planners, developers and others on the importance of preserving these places. Those that are not gazetted need to be such that they are protected under the NMMZ Act," he said.