By Tatenda Chitagu
MASVINGO-The ease with which Magret Mapondo, a small-scale farmer from rural Masvingo district, processes her cow-peas harvest, is something to behold.
Not so long ago, the 45 year-old farmer from southern Zimbabwe would take several days to thrash, then shell, using her bare hands, and winnow a few sacks of her cow peas and other hardy pulses.
"I would look for a dwala where I would thrash my cow peas and other pulses so as to avoid them mixing with soil. I would then shell them manually and winnow to remove the chaff. For a tonne, it would take me some weeks," she remembers.
This discouraged many farmers in the area, which has experienced crop failure due to drought, flooding or erratic rainfall from 2015 to 2022, from growing pulses and other legumes which are drought tolerant because of the labour involved in their post-harvest processing.
"Things have changed now…there is a multi-thresher in my village where shelling one tonne will take me less than one hour. This has incentivised the growing of the pulses," she said, her beaming smile exposing her relief.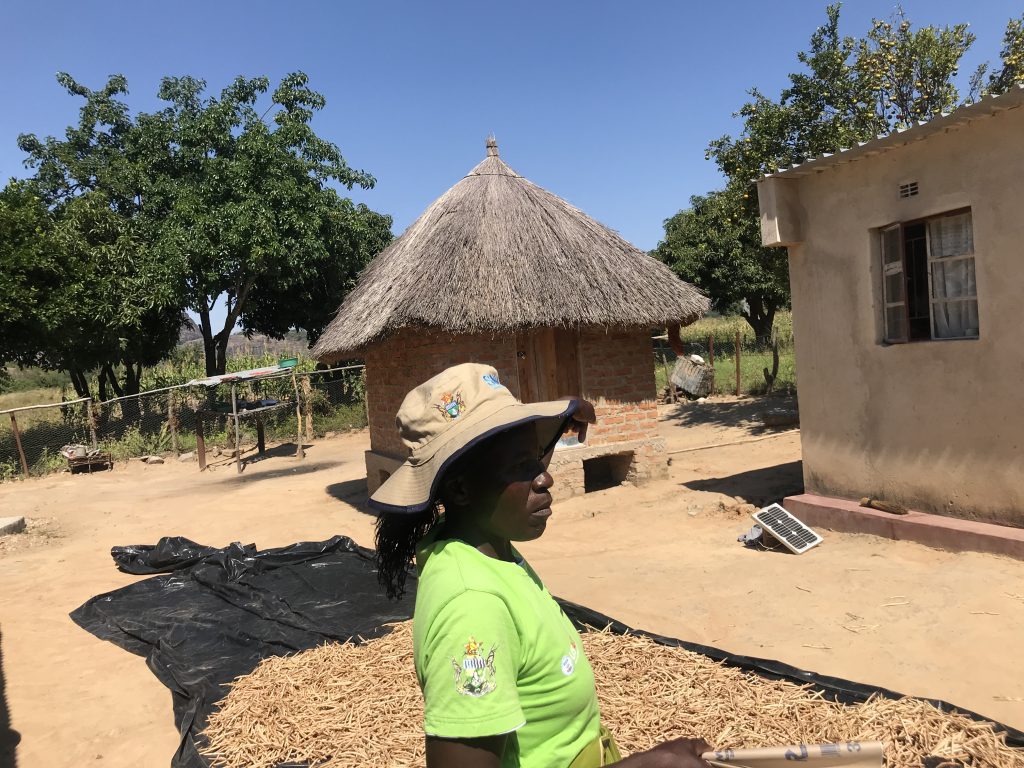 Mapondo in front of part of her cowpeas harvest (pic by Tatenda Chitagu/HuMFOZ)
The multi-thresher came about through the smallholder mechanisation program run under the Zambuko Livelihood Initiative, which is an US$8,3 million USAID funded project operational in Mwenezi, Chiredzi and Masvingo districts.
The World Food Program (WFP) is working with the International Maize and Wheat Improvement Center (CIMMYT), SNV Netherlands Development Organisation, Tree of Life, and Mwenezi Development Training Center (MDTC) to implement the project.
SNV has looked for a market for the cow peas and hundreds of farmers like Mapondo have been contracted by Easy Seeds to grow cow peas, which they shell in their localities, while Easy Seeds comes to buy in their area.
Kudakwashe Charova, another smallholder farmer from the area, which is highly dependable on unreliable rain-fed agriculture, is one of the direct beneficiaries of the mechanisation scheme.
Growing up as a young man in rural Musharu village, Charova would enjoy going to the local shops for grinding his family maize into the staple mealie-meal, but never imagined he would own an almost equal, or bigger, machine for processing his harvest.
Today, with the help of the project, Charova is now an owner of a diesel-powered multi-crop thresher, a two wheel tractor, trailer and planter at his modest rural homestead.
"I got this sheller, a two wheel tractor, trailer and planter. They cost US$5 000. I am paying 50 percent of the total cost in US$100 monthly instalments for twenty months after an advance of US$500 commitment fee. CIMMYT pays the remaining US$2 500. The terms are flexible as we were given a four months grace period to acclimatise with the machines. By the end of the year, I will be through with the payment," he says.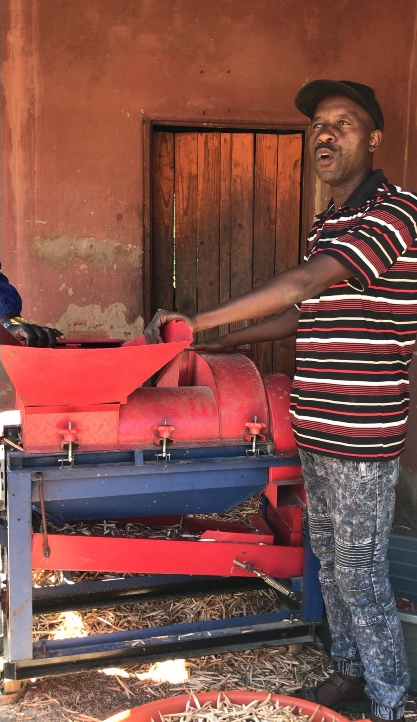 Charova explaining how the multi-thresher works (pic by Tatenda Chitagu/HuMFOZ)
He charges US$15 per tonne or ten percent of the total product that comes for shelling.
Charova, who has limited access to credit lines, is among 34 farmers in seven wards in Masvingo district with the harvesting equipment, and or rippers according to CIMMYT field technician, Sign Phiri.
"CIMMYT is promoting smallholder mechanization through a Service Provider model. The Service Provider (SP) is being equipped with a starter pack which comprises of a two wheel tractor, trailer, multi-crop thresher and double row planter. The SP will provide Services to other farmers for a fee.
"We have 34 service providers, six local trained mechanics and two spare part agro-dealers. Maize and small grains are now threshed mechanically, while farmers are now practicing mechanized conservation agriculture," said Phiri.
CIMMYT is also promoting conservation agriculture among small holder farmers since 2019 by providing ten seed varieties at demonstration plots comprising six varieties of maize per site, two legumes and two cereals.
Robin Vikstrom, WFP Zimbabwe Programme Policy Officer, Climate Change and Resilience, said the the idea behind the Zambuko (translated from the vernacular to mean bridge) is to help farmers impacted by poor or erratic rainfall to overcome the challenges of climate change and improve smallholder farmers' crop production as well as post harvest handling processes.
"Zambuko leverages on ongoing asset-creation activities to build livelihood capacities to complement these investments, creating a holistic package of support, resulting in durable resilience impacts for economic growth. The project represents medium-term transition support for households, to help them graduate from humanitarian assistance and pave the way to sustainable livelihoods," said Vikstrom.
With such mechanisation at her doorstep, Mapondo says she hopes to increase her hectarage under cowpeas, other pulses and small grains next farming season.
*Banner Image: Charova operating his multi-thresher (pic by Tatenda Chitagu/HuMFOZ)